Common Types Of Pumps We Service
Grinder Pumps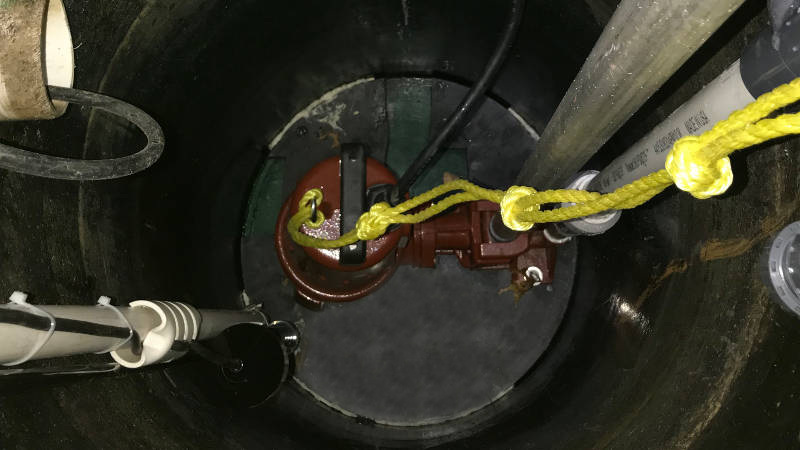 Grinder pumps are designed with a cutting device that essentially chews and grinds up solids within the sewage before transferring the waste through piping.
Lift Station Pumps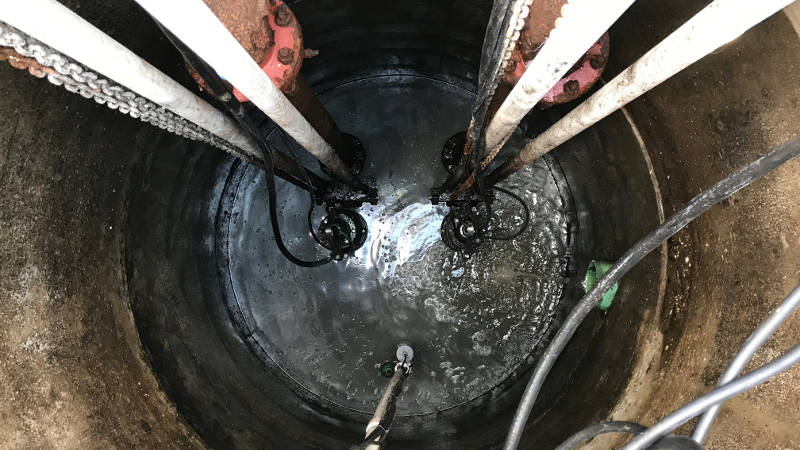 Lift station pumps are designed to transfer wastewater from a lower elevation to a higher elevation where the wastewater can then be treated according to the designed treatment application.
Effluent Pumps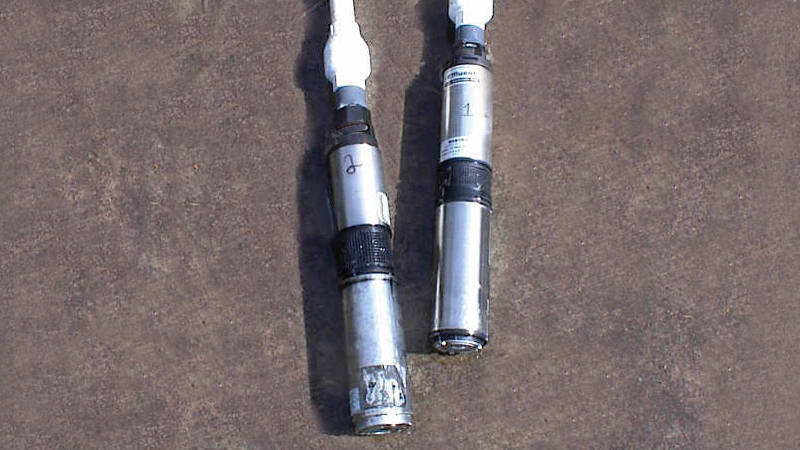 Unlike a grinder pump, these particular sewage effluent pumps are small diameter centrifugal pumps, which are only designed for the liquid portion of sewage, referred to as effluent. They are unable to handle large particles of sewage and are sometimes mistakenly referred to as sump pumps for septic systems.
Marina Pumps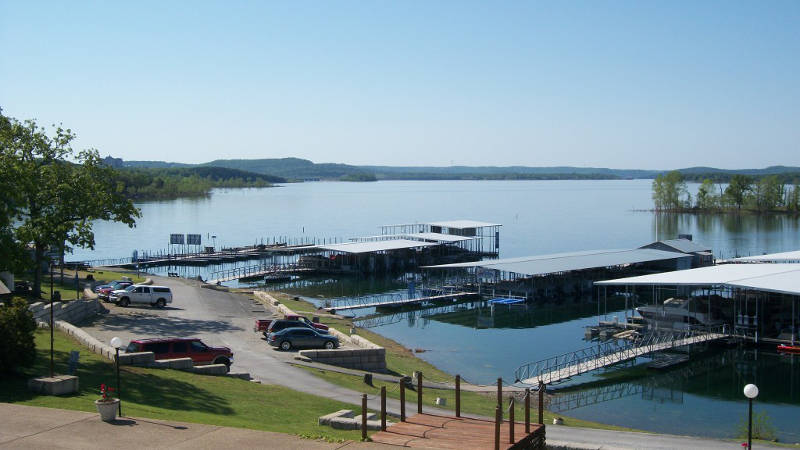 We offer marina pump repair and installation services for Table Rock and Lake Taneycomo. Marina pumps are typically used for emptying boat/vessel sewage holding tanks and transferring wastewater from a dock that has kitchen and bathroom facilities to a land-based holding tank or wastewater treatment facility.
Commonly Used Terminology
To better understand the different styles of sewer pumps, it's important to have an understanding of the following terms.
Sewer / Sewage
Solids and liquids typically found in domestic wastewater such as feces, urine and garbage disposal grindings.
Effluent
Is only the liquid part of sewage.
Storm water
Typically includes rain water including ground water that may contain some amounts of silt.
Impeller
The rotating part of a pump which gathers the media and creates pressure forcing it into the discharge piping.
Volute
The part of a pump that houses the impeller.
Motor
The device that turns the pump, typically an electric motor for most applications.
Sewage pumps are commonly referenced with a variety of terminologies. These different terms include septic tank pump, septic system pump, sump pump, well pump, plumbing pump, basin pump, wastewater pump, sewer sump pump, grinder pump, etc. No matter what you call it, we have the experience and knowledge to repair and install all of them.
Call or Request Estimate!
Reasons Why Sewage Pumps Fail
Are you replacing your sewage pump every few years or perhaps even more often? If so, we've listed a few reasons below why your pump may be failing.
Installation Errors
The most common cause for failing sewage pumps is due to improper selection and installation methods. Many plumbers and electricians who repair and install sewage pumps have a limited understanding of how site conditions, elevations, head pressure, flow, piping, fittings, electrical connections and the power supply affect the performance of the pump. Unfortunately, many plumbers and electricians simply go to a local plumbing supplier and purchase a pump off the shelf, switch it out with the old pump, hookup the wiring connections and call it good without even considering whether the pump is a good fit for the application. If a plumber or electrician doesn't have a vast knowledge of all the components and factors that result in a long lasting installation, the pump will only last a short time.
The Grade Of Pump
Another common reason for pumps failing is because manufacturers who make the pumps only use residential duty components. This means your pump isn't as heavy duty as it could be and allows the manufacturer to perpetuate the sales of more pumps. Many residential sewage pumps use restrictive filter screens, which can restrict the water entering the pump or flowing past the motor that drives it. This causes the pump to overheat, eventually causing component failures. We manufacture our own sewage pump system, which is designed with industrial grade components and our own proprietary programming to power the pump more efficiently.
Wrong Pump Selection
Another cause of maintenance failures for sewage pumps is due to using the wrong type of pump for the application. With sewage or effluent pumps, the impeller can become clogged and the rotation can be stopped by solids. Failure in sewage or effluent pumps sometimes occurs because the pump does not have the proper curve for the application.
Symptoms Of Sewer Pump Alarm Going Off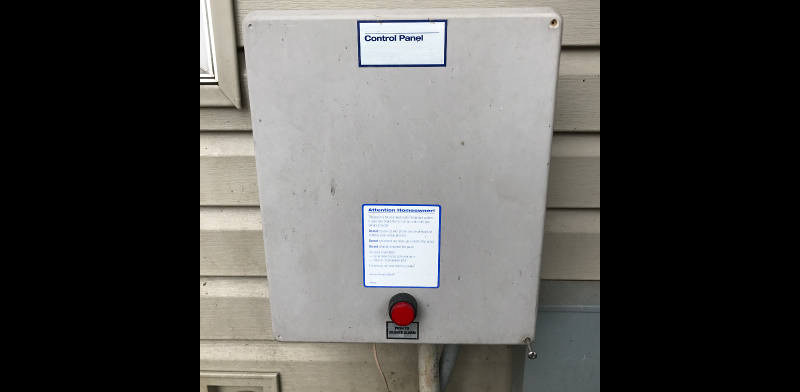 The following are a few possible reasons why your sewer pump alarm might be going off.
Pump has burned up
Seals have gone bad
Water is mixed with oil
Electrical component failure
Breaker has tripped
Cutters are clogged
Controls are failing
How To Shut Off Your Sewer Pump Audible Alarm
Most sewer pumps have a control panel (see image above) that have a red, reddish or orange colored warning light. It will generally be flashing when your pump system is in a malfunctioning state. The control panel may also be equipped with a warning buzzer, which sounds an audible alarm. The following should help you to shut off your sewer pump's alarm on most control panels.
Look for a push button or toggle switch on the front or side of the control panel. Push it in or move it left or right to silence the alarm.
Envirotek Systems Offers Longer Warranties With Our Sewage Pump Systems
With all the years we've been servicing pumps, we've recognized an inherent problem with most residential sewage pumps. They're not usually built to last and most only come with a 1-3 year limited warranty.
That is why we developed our Visi-Pump brand. Visi-Pump is a sewage pump system that we've designed with long-lasting industrial motors and other industrial components with smart software programming logic to control and operate the pump more efficiently. No other manufacturer currently offers anything close. If you are having trouble with your home's sewage pump and controls, you can rest assured that we have a solution for you.
Our residential Visi-Pump system comes with a 10-year parts and labor warranty. It far exceeds the reliability and functionality of anything currently available on the market.
Whether you need your pump repaired or replaced, you can trust in our services.
Call or Request Estimate!