About Our Wastewater Treatment Plant Services
Our Services
We have been involved in the design and construction of numerous decentralized sewage treatment facilities complete with collection systems including lift stations. Our expertise beyond standard plants even includes environmentally sensitive projects including waterfront developments on Table Rock Lake.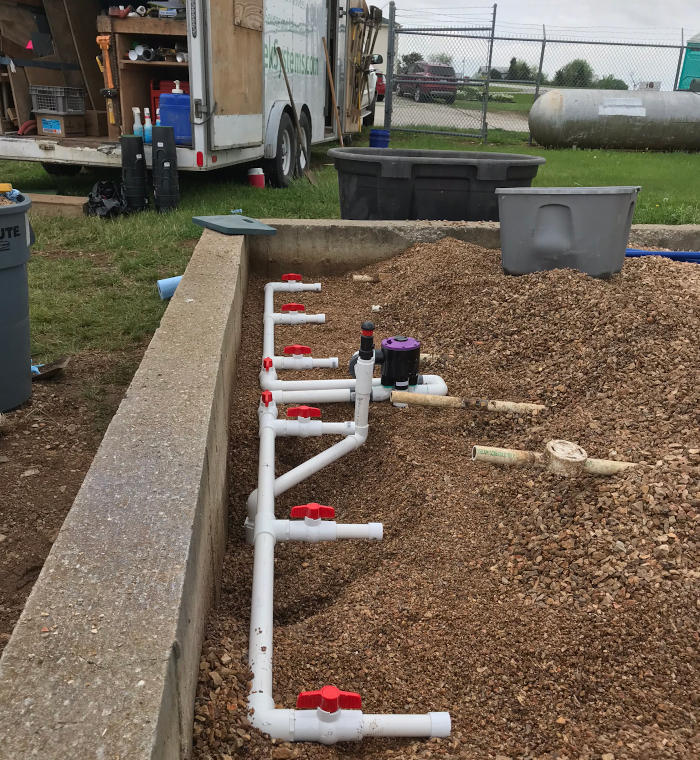 Areas We Work In
We service sewage treatment plants throughout all of central and southwest Missouri including Branson, Kimberling City, Table Rock Lake, Lake Taneycomo, Hollister, Forsyth, Branson West, Reeds Spring, Galena, Cape Fair, Lampe, Shell Knob, Rogersville, Republic, Nixa, Ozark and Springfield, MO. We also serve areas of northwest Arkansas as well.
Our Licensed Credentials
Envirotek Systems is a Missouri licensed OWTS (onsite wastewater treatment system) installer. Our credentials include being licensed as an Advanced OWTS Installer, License # 33649 and a licensed OWTS Inspector, License # 50750.
Treatment Plants We Specialize In
Recirculating Sand & Media Filter Treatment Plants
Extended Aeration Treatment Plants
EPA & DNR Regulations for Sewer Treatment Plants At Table Rock Lake
The Missouri DNR is required to abide by mandates handed down by the EPA. The DNR regulates and permits any discharges of 3000 gallons per day or more. DNR permits specify the amount of different pollutants that can be discharged such as BOD (biochemical oxygen demand), TSS (total suspended solids), e coli, phosphorous, ammonia and chloride.
In 1999 the Missouri Clean Water Commission which operates under the DNR, adopted lower discharge rates of phosphorous of 0.5 miligrams per liter.
RECENT EPA MANDATES
Lower current allowable levels of ammonia discharge by approximately 75%.
DNR will soon update their current standards to mirror the EPA's regulations (update when available)
These mandates will require all permittees to add additional treatment technologies. At Envirotek Systems we are diligently working to provide solutions for permittees to meet these new standards.
Project: First decentralized phosphorous removal system in Missouri
We were involved in the design and construction of the first decentralized sewage treatment facility to incorporate phosphorous removal on Table Rock Lake.
Trust In Envirotek Systems For A Quality Treatment Plant Design
Our experience with the design, construction, operations and repair of sewage treatment plants gives us a unique perspective in helping our clients with their needs.
We incorporate value engineering into each project we are involved with. This ensures a quality that gives long term functionality with minimal operational and maintenance expense.
Call or Request Estimate!