At Envirotek Systems we have extensive experience in performing lift station maintenance in Missouri. We service Springfield, Nixa, Ozark, Branson and Kimberling City. Our experience has enabled us to help clients overcome persistent problems. We have provided design and installation for subdivisions, condominiums, RV parks and campgrounds.
Sometimes a simple design change can eliminate recurring maintenance calls. It is not uncommon for us to be called in on a system that is in complete disrepair. This is usually an emergency situation. We are able to keep your lift station functioning at some level while rebuilding or replacing your components.
Call or Request Estimate!
Repair service for lift stations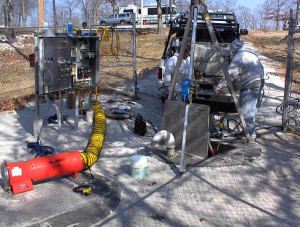 Often there will be large diameter basins with man-ways for lift station repair. These basins are considered to be confined spaces. All sewage inside contain lethal gases. Don't let your service result in a tragedy. They should not be serviced by untrained personnel. At Envirotek Systems we take safety seriously. When our technicians provide repair services for lift stations, they use specialized equipment and have extensive training to safely enter these spaces when needed.
Commercial grade lift station replacement
Even though most are used in more of a commercial application, many are still designed using only residential duty pumps and controls. We recognized the need for better motors, pumps and control panels for lift stations. That is why we developed our new Visi-Pump line. It utilizes only industrial duty components, which eliminates the nuisance of recurring problems and offers the best available technology and reliability.